---
This little contraption became the first semi-professional install I did. BigBob and I cranked most of this out prior to Spring Break Nationals 1997. In fact I think we finished it and were tuning it the night before I left. This began 'The SheepSkin Install' era due to the carpet I used having a pile thicker than what you find in a typical house. This was a very short lived install, it only made it to Perry 1997 when all hell broke loose for install #3.
---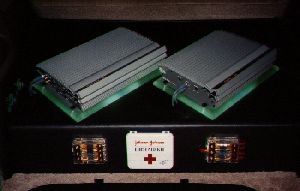 Amp Rack
I tried to bring the vinyl look into style way before The Matrix was even around, but it just didn't seem to want to take off. I got the idea for the plexiglass with neon in it one day at the shop when I noticed a mountain of plexiglass. The sign company that I had to keep going back to to have them make the annoying little 6" square pieces of neon finally realized they had a goldmine on their hands when I'd break one a week.


---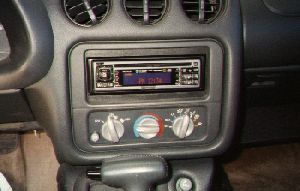 Headunit
This was the same exact setup as system #1. The pictures are a little better.







---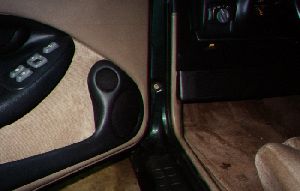 Drivers Side Speakers
I still had the silly horns, but I redid the mounts.







---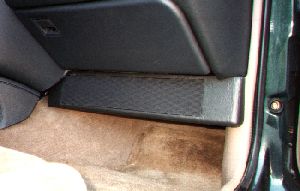 Passengers Side Speakers
Pretty much a mirror image of the drivers side speaker photos.







---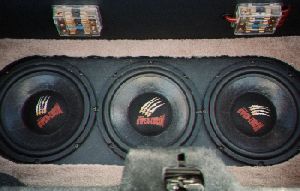 The Subs
This is where things got high... er, interesting. Going for more of a sound quality performance factor out of the subs the box size was cut from 3 cubic feet to 1.5 cubic feet by way of a form fitting fiberglass box. We made sure that the subs were wired up right this time and loaded the poor Thor down to an insanely low load of .5 ohm with the help of an Accumatch. It was the little box that could, 135-140db with non-name brand equipment is pretty impressive, and I never blew a single sub with this box! (damn if I didn't try too.)

---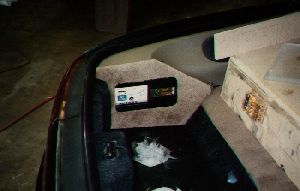 The Bass Processor/Accumatch
I have no idea what I was thinking when I came up with this idea other than "There's a hole, I better fill it". It seemed like a good way to cover up the Clarion EQ and show off a couple more pieces of hardware... at the time.





---

This site is designed for a resolution of 800X600 or higher.